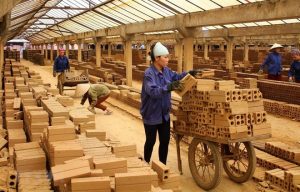 Hanoi (VNA) – Stable production and supply-demand balance has helped Vietnam's construction materials industry better meet domestic demand, according to the Department of Construction Materials under the Ministry of Construction.
Currently, the sector is promoting exports, focusing on protecting the environment and saving resources, said Head of the department Pham Van Bac.
Supply and demand balance in the construction material market continues to be guaranteed. Notably, about 20.7 million tonnes of cement was consumed in the first months of 2019, equivalent to the same period of 2018. Domestic consumption accounted for 12.5 million tonnes.
In recent times, the ministry has coordinated with other sectors to make timely adjustments to ensure sufficient raw materials for cement plants to operate stably and has also encouraged rational use of minerals as materials for construction projects.
Accordingly, planning of products in construction materials and problems arising in State management have been reviewed and summed up after the product planning of this field expired on December 31, 2018, thus proposing management solutions replace the plan of construction materials products when it expires under regulations of the Law on Planning.
The ministry has paid attention to several contents related to the development strategy of the cement industry by 2030 towards 2050; the construction materials development strategy in the period of 2021-2030, with a vision to 2050; the project on research and development of construction materials in service of coastal and island works to 2025; and reviewing the 10 years of implementation of the unburnt construction materials programme.
Along with urging localities to remove manual kilns and lime kilns and increase the use of unburnt building materials, the Ministry of Construction continues to implement the project of promoting the treatment and use of ash, slag, gypsum of thermal power, chemicals, and fertiliser plants as raw materials for production of construction materials and in construction projects.
One of the key tasks of the Ministry is to supplement the list of locally produced construction materials to control and limit the import of goods manufactured locally, and handle problems related to minerals used as construction materials and minerals used as cement materials.-VNA